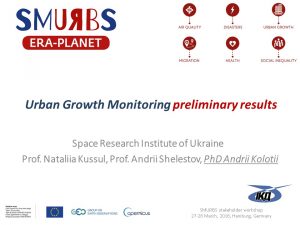 March 27-28, 2018 at the University of Hamburg hosted a workshop on the project ERA-PLANET SMURBS, dedicated to the implementation of smart city air technologies, emergency response and disaster prevention, as well as the growth of urban agglomerations.
Within the framework of the SMURBS project, Kiev is one of the pilot cities for which the project results are planned to be implemented. Such activities require close cooperation with local authorities, which are the basis for a cooperation agreement with the KCSA, signed February 21, 2018
Representatives of Ukraine from ICI Nano-SSAU and KCSA attended the desktop, the results of which formed the lists of geospatial products and intelligent solutions, which are important for the development of smart cities.