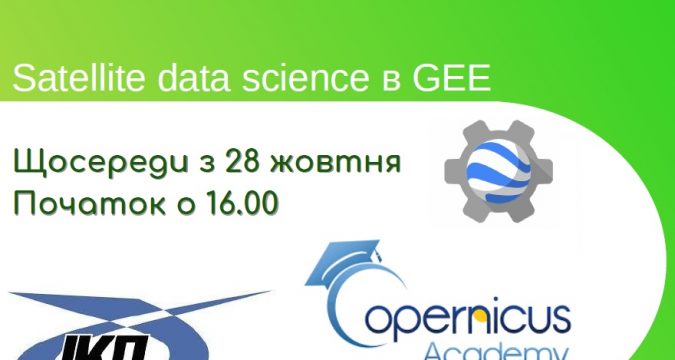 On November 28, 2020, the Satellite data science in Google Earth Engine group opened at Space Research Institute NASU-SSAU, which takes place within the European space strategy Copernicus Academy, aimed at educating young scientists and creating progressive communities in the field of innovation.
Space Research Institute  NASU-SSAU is a participant in this program, which provides an opportunity for a new generation of inventors to realize themselves.
The first lesson covered the basics of using satellite data and object-oriented programming, and showed how the two fields of science interact.
The participants of the event got acquainted with:
open optical satellite data on the example of a visual series of images of the satellite Sentinel-2;
different indices of remote monitoring of the land cover;
Google Cloud Engine, an open cloud platform used to process large amounts of satellite data.
Classes will be held every Wednesday. Start at 16.00. Follow our news on the Facebook page and stay up to date with the latest events.
Next Wednesday, November 4, we will consider the calculation of various vegetation indices, their analysis and visualization in Google Earth Engine. The group members will also learn what is a land cover map and how to work with it.
Join!
Registration: https://qrgo.page.link/LHVC1
Group program: https://qrgo.page.link/nEsfp