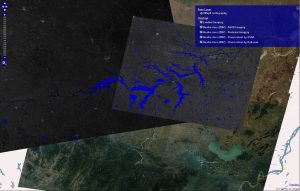 Main organization: SRI NASU-NSAU
Project Manager: Kussul Natalya Nikolayevna
OBJECTIVE The overall goal of the project is to develop GRID services for flood monitoring using spaceborne radar and optical data. The proposed services would be considered as the Wide Area Grid (WAG) testbed with further integration with EO Grid.
TASKS.
To transfer flood monitoring methods developed in Slovakia to other regions, specifically Ukraine and China.
To prove elements of WAG infrastructure.
To develop the data fusion methods for flood monitoring using spaceborne SAR and optical data.
To implement developed methods in the form of Grid services.
METHODS The proposed GRID-service will provide the following information based on the mutual use of spaceborne SAR and optical data: – flood extent mapping – DEM Flood extent mapping using radar data will be extracted using multitemporal technique and Markov Random Fields. The flood extent maps using optical sensors will be derived using information provided in visible and infrared channels. Different vegetation indices, such as NDVI (Normalized Difference Vegetation Index), will also be used for these purposes. In order to derive more accurate flood extent mapping additional information about topography will be explored, in particular DEM. To derive DEM InSAR (Interferometric Synthetic Aperture Radar) technique will be used. As Grid middleware Globus Toolkit 4 (GT) will be used. Grid archive will be developed by means of OGSA-DAI. Grid portal will be developed using P-GRADE portal solution.
CASE STUDY AREAS The following case study areas will be considered within the proposed project: – Ukraine: Carpathian region, the Dnipier estuary – China: Huaihe River region.
RESULTS AND DELIVERABLES
Spaceborne data sets required for flood monitoring will be defined.
New method based on Markov Random Fields for flood extent mapping will be developed.
GRID service based on the existing and developed methods for flood monitoring that will be implemented.
The first stage of WAG testbed will be developed. Most appropriate software for further development of WAG will be identified along with problems arising during integration of existing ad-hoc Grid systems of involved organizations.
Results of the project will be presented by the means of Grid-enabled portal.
Funding sources.
International: partially supported within INTAS-CNES-NSAU project on creation of Data Fusion Grid Infrastructure in the framework of WAG project.
National: National Space Agency of Ukraine within the project on creation of Ukrainian segment of GEOSS/GMES.
Wide Area Grid (WAG) is initiated by CNES and targeting joining of
resources of multiple space agencies and related organization of the
world.