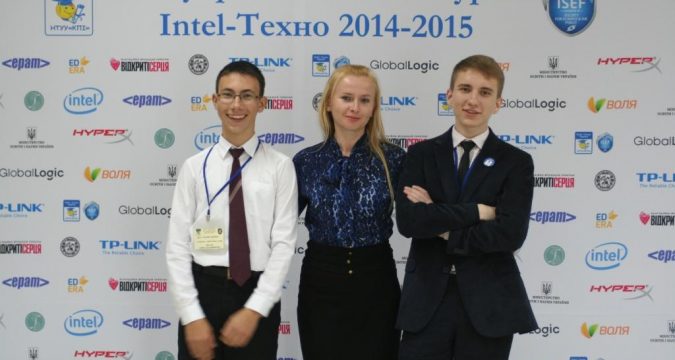 From 14 to 16 October in the walls of the Kiev Polytechnic Institute, with the support of Intel Corporation in the Ukraine, was eye round competition of scientific and technical creativity for pupils Intel-Techno Ukraine 2014-2015 – of the International Competition Intel ISEF International Science and Engineering Fair.
It was attended by members of the circle at the Space Research Institute of NAS Ukraine and SSA Ukraine, which was represented by the category of "Computer Science":
1 Vikulov Andrew (I-III School of Art. №286, Kyiv) work entitled "A method for assessing areas of winter crops," the supervisor which was Yaylymov Bogdan, and received a third place certificate and Ricoh Sustainable Development Award.
2.Suprun Bogdan (I-III School of Art. №286, Kyiv) work entitled "Flood risk assessment using satellite data", which was the supervisor of Ph.D. Kolotiy Andrew, and graduated in the fourth place.