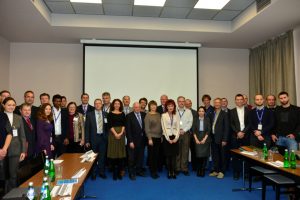 International workshop on satellite agromonitoring «Joint Workshop on Information Needs in Crop Monitoring» was held on October 22-23, 2015 in Kyiv, Ukraine.
The Joint Research Centre of the European Commission (JRC EC) and the United Nations Office for Outer Space Affairs UNOOSA were symposium organizers and sponsors.
Symposium was supported by European Copernicus program and GEOGLAM initiative of GEO group. The Space Research Institute NAS Ukraine and SSA Ukraine
was define as a local workshop coordinator.
Representatives of Ukrainian government, international and national experts in satellite Agromonitoring met at the workshop. Informational needs,
available technical solutions and possible funding sources were discussed during workshop.
Representatives of the European Union in Ukraine, the Joint Research Centre of the European Commission, the United Nations Office for Outer Space Affairs,
the European Space Agency, the GEOGLAM program , the European research centers and Institutions and experts in the area of satellite monitoring of the
Eastern Partnership countries participated in the workshop. State Space Agency of Ukraine, Ukrainian State Service of Geodesy, Cartography and Cadastre, Ukrainian Hydrometeorological center,
Institutes of the National Academy of Sciences of Ukraine and National Academy of Agrarian Sciences of Ukraine,
representatives of leading educational institutions and private companies participated in workshop from Ukrainian side.
Current status and development trends of satellite monitoring were presented by European participants. European Space Agency was represented by Benjamin Koetz who is
responsible for data processing systems development within Copernicus program. In the report «Copernicus Space Segment for Agriculture»
he payed participant's attention on agricultural monitoring capabilities of European satellites. As was presended by Benjamin Koetz, modern satellites produce big amount of data
(the «Big data» problem) and developing of modern methods of Data science and Machine Learning is necessary for dealing with this problem.
Olivier Leo, Co-Chair of the global agricultural monitoring program (GEOGLAM) presented the main objectives of the program and Ukraine's participation in the development of this program.
He also noticed the significant experience of successful cooperation between European research institutions and Ukrainian experts from SRI NASU-SSAU (in particular with the group of prof. Nataliia Kussul)
The Institute has considerable achievements in the development of geospatial analysis methods, Machine Learning and Big data processing domains. The results of the SRI NASU-SSAU are
internationally recognized and validated for other regions all over the world (developed methods are proved to be the best within JECAM (Joint Experiment for Crop Assessment and Monitoring) project).
Ukraine is one the most important producers of agriculture products so operational agromonitoring is very important not only for Ukraine but also for international market –
both within global agricultural market analysis program AMIS (Agricultural Market Information System) and global GEOGLAM agromonitoring (Global Agricultural Monitoring).
Due to the presence of qualified experts capable of developing new methods for satellite data processing in the domain of satellite agromonitoring in Ukraine as well as
developed and unique agricultural sector of Ukraine, European Space Agency (ESA) selected Ukraine as the pilot region for operational agromonitoring technologies testing.
All this activities are opening up new prospects for European integration of Ukraine and for strengthening Ukrainian role in international global programs of
Committee of Earth Observations GEO and European Copernicus program.
Evidence of these processes is the participation of Ukraine in the project ERA-PLANET "The European Network For Observing Our Changing Planet" aimed to creation
of common European Research Area in the field of Earth Observation to strengthen European role in the GEO programs.
The National Academy of Sciences of Ukraine (NASU) is taking concrete steps for Ukrainian integration in European Research Area. In particular on October 21, at the meeting of the Presidium of the NASU dedicated
to the participation of NASU in FP-7 program and to the prospects of participation in H2020 it was decided to "use every opportunity to launch special competitions as part of the H2020 and to eliminate
legislative and organizational obstacles for integration of Ukrainian scientists into the European Research Area". These steps will contribute into Ukrainian integration to European Research Area,
in particular within the ERA-PLANET.
The next concrete step is to create a national committee of GEO program. It is extremely important decision of NASU, showing real steps towards European integration of Ukrainian science and
Ukrainian space industry convergence with the European Space Agency (the Association Agreement with ESA is under preparation at the moment).
Thus scientific results in modern computer science has become a driving force for significant applied results, and Space Science has become the flagship of European integration of Ukraine.
As a result of the symposium it was decided to launch a pilot project for satellite Agromonitoring of Ukraine within the Sentinel4Agri project «Sentinel-2 for Agriculture» of Horizon-2020 program participated by
Space Research Institute (supervisor – prof. Nataliia Kussul). It was decided to continue applied scientific researches of Ukrainian institutes within the framework of Copernicus, which would
contribute to "the vertical integration of satellite Agromonitoring at all levels – from the farm to the government agencies engaged in control functions".
Also attached participants list and agenda
Presentations are available at the following urls: (in pdf):
G. Lemoine, JRC, Italy Objectives and scope of the workshop
Y. Yatskiv, Ukraine Welcome words from National Academy of Sciences of Ukraine Academician
G. Lemoine, JRC, Italy Novel technologies used in crop monitoring
B. Koetz, ESA, Italy, The Copernicus Space Component for Agriculture
L. Grekov, National security and defence council of Ukraine, Crop monitoring requirements for national security in Ukraine
D. Makarenko, The State Service of Ukraine for Geodesy, Cartography and Cadastre, International projects of the StateGeoCadastre and prospects of Earth observations utilization
S. Krautsou, NAS, Belarus, Crop monitoring requirements in Belarus
A. Mermer, CRI Field Crops, Turkey, Crop monitoring requirements in Turkey
T. Adamenko, HMC, Ukraine, Crop monitoring and crop yield forecasting in Hydrometeocenter of Ukraine: the state of the art and information needs
O. Leo, JRC, Italy, GEOGLAM and global yield monitoring
N. Kussul, SRI, Ukraine, Satellite monitoring products at national and regional levels
O. Zhovtonog, NAAS, Ukraine, Irrigation management using satellite data
O. Dubovyk, G. Ghazaryan, U. Bonn, Germany, Land use change
R. Zawadski, ARIMR, Poland, Parcel reference system implementation
I. Moorthy, IIASA, Austria, Crowd-sourcing
V. Panasenko, State Institution "Soil Protection Institute of Ukraine", Informational technologies within the system of soil monitoring in Ukraine
J. Baltussen, RVO, Netherlands, Open Spatial Data Infrastructure
I. Butko, Centre of organization of space facilities and special control, Cloud platform for regional agricultural monitoring
D. Mikus, U. Gyongyos, Hungary, Hyperspectral imaging