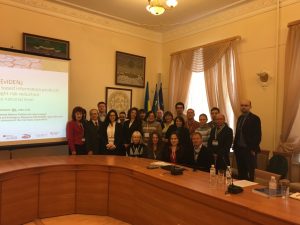 On the 6-th of December at the premices of National Technical University of Ukraine "Igor Sikorsky Kiev Polytechnic Institute" (NTUU "Igor Sikorsky KPI") the workshop on Evidenz
project (Earth observation-based information products for drought risk on a national basis) was organized. The workshop was supported by United Nations Office for Outer Space Affairs,
United Nations Platform for Space-based Information for Disaster Management and Emergency Response UN-SPIDER and the University of Bonn (ZFL). The local workshop organizes are Space Research
Institute NASA-SSAU and NTUU "Igor Sikorsky KPI".
Evidenz project aimed to solving the problems of monitoring Earth for agricultural drought risk reduction at the national level,
including limiting the socio-economic impact and identification of a common set of criteria to assess the risks of this type of disaster globally.
Objectives of the project will be implemented over the territory of Ukraine (for the pilot regions) and South Africa. These countries are selected for project execution as they have the most
possible difference in agro-climatic conditions. Such selection of the studied areas will allow the evaluation of project's results transferability to other areas around the world that meets the objectives of Senday's Framework (2015-2030).
At the workshop the representatives of the University of Bonn (ZFL) and the UN-SPIDER platform presented the tasks of the project. From Ukrainian side the representatives from the authorities of Ukraine (State Emergency Service of Ukraine, Ministry of Agrarian
Policy and Food of Ukraine, National Centre of Management and Testing of Space Facilities, State Agency for Water Resources etc.) and leading experts in satellite monitoring domain participated in the workshop. The participants of workshop
discussed user requirements in the domain of drought monitoring and drought risk prevention satellite products, as well as discussed the prospects of implementing the policies of risk management of natural disasters in Ukraine.