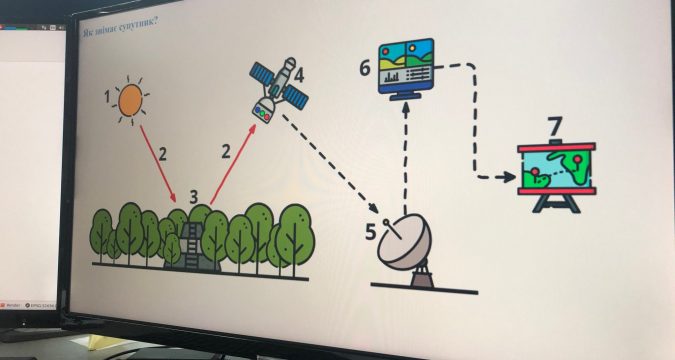 October 15, 2019 in the Noosphere Engineering School held a public free webinar "Ecological monitoring of the environment based on satellite data" .
The webinar was held within the week of EU programming and the Meet and Code initiative implemented by the GURT Resource Center: Portal for Socially Active Citizens in collaboration with TechSoup Europe and Haus des Stiftens gGmbH for SAP funding.
Many people from different cities of Ukraine (Kyiv, Kharkiv, Dnipro, Zaporizhzhya) have registered.
The classes were conducted by practitioners from EOS – US based company for the development of geodata and satellite monitoring tools, LandViewer, a real-time image processing and analysis service (Verbonol Volodymyr), and Aspectum, a cloud ecosystem for geodatabase analysis and visualization (Kozyr Mykola).
Also, experts from Noosphere Engineering School at the Space Research Institute of NAS of Ukraine and SSA of Ukraine NESKyivSRI acquainted the participants with publicly available satellite data sources and learned to programmatically implement algorithms to work with geospatial information to use satellite data in environmental monitoring environmental problems (Yaylymov Bogdan).
General knowledge and skills that webinar students have learned:
1. Getting acquainted with the basics of satellite and geospatial data.
2. Getting acquainted with tools for working with geospatial data.
3. Practical application of satellite data for environmental monitoring:
– land monitoring;
– estimation of dynamics changes of forest areas;
– monitoring of urban agglomeration growth;
– satellite data to counteract the effects of emergencies natural disasters (fires, floods, etc.).
Upon completion, each received a certificate of membership, as well as access to the commercial platforms Land Viewer and Vision (Aspectum).
The theme of the event was useful and interesting for everyone who is not indifferent to climate change, and especially for people with a professional orientation who can use the acquired knowledge to improve their skills.