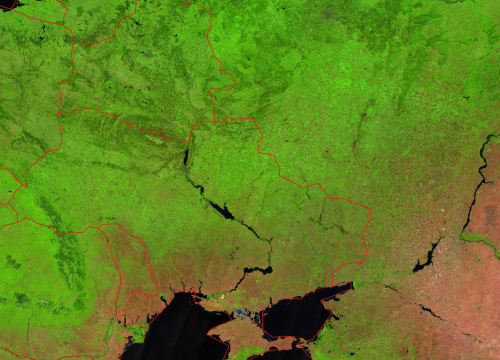 Within program Land Cover/ Land Use Change program received a grant for the project "High-Impact Hot Spots of Land Cover Land Use Change: Ukraine and Neighboring Countries" led by Dr. Sergii Skakun, Assistant Professor in the Department of Geographical Sciences and iSchool, University of Meryland. Funding is provided by the National Aeronautics and Space Administration.
This project is a collaborative effort between GEOG researchers (Dr. Jean-Claude Roger; Dr. Joanne Hall; Dr. Natacha Kalecinski), Ukrainian Space Research Institute (Dr. Nataliia Kussul) and National Technical University of Ukraine "Igor Sikorsky Kyiv Polytechnic Institute" (Dr. Andrii Shelestov).
About project
Constant economic and political changes, climate variability, the military conflict in eastern Ukraine and the annexation of Crimea, the policy of opening up the land market, the transition to double land cultivation and other human factors have become prerequisites for hotspots (LCLUC) throughout Ukraine, covering several sectors (agriculture, urban and forestry) and have significant socio-economic impact.
That is why Ukraine has been chosen as an ideal object of LCLUC hotspots of national and regional significance. The overall objective of the project is to analyze and quantify the impact of LCLUC in Ukraine on the agricultural, forestry and urban sectors. It is planned to analyze the existing changes, obtain a methodological basis for identifying crop rotation violations and assessing areas (rapeseed and sunflower), assess the potential impact on the environment due to non-compliance with optimal crop rotations (Sustainable Development Goals) for 2013-2022.
The proposed project will be built on a successful long-term collaboration between US and Ukrainian partners and will leverage results from previous and ongoing projects, including "Crop yield assessment and mapping by a combined use of Landsat-8, Sentinel-2 and Sentinel-1 images" (NASA/LCLUC), "Methodology for SDGs indicators assessment" (GEO-AWS Earth Observation Cloud Credits Program) and "Supporting Transparent Land Governance in Ukraine" (WorldBank).
More about the project: https://geog.umd.edu/feature/sergii-skakun-receives-nasa-grant-analyze-high-impact-hot-spots-land-cover-land-use-change