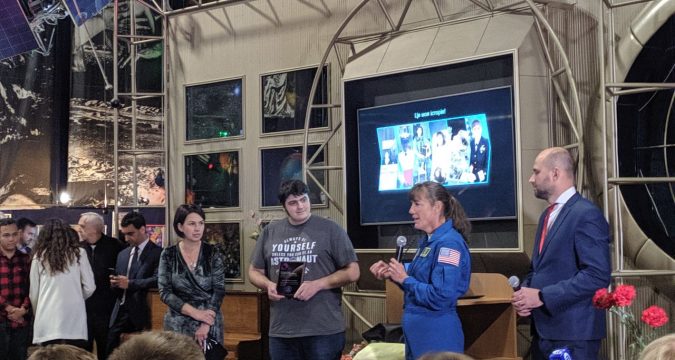 🤩Great news from #NESKyivSRI. 2-day Master Class on Satellite Analysis of the Earth's Ecological Situation for Schoolchildren, which was timed to coincide with World Space Week, won the award for "Best idea of the event!"
🏆The honor to accept this award from the legendary American astronaut of Ukrainian origin Stefanshyn-Heidi Piper had a representative of the NGO "Association noosphere" Leonid Shumilo
🌎Recall that Master Class on Satellite Analysis of the Earth's Ecological Situation for Schoolchildren, was held on October 5 and 6, 2019 at NoosphereEngineeringSchool on the basis of the Institute of Space Research of NAS of Ukraine and SSA of Ukraine.
The educational event took place within the week of EU programming and the Meet and Code initiative implemented by the GURT Resource Center: a portal of socially active citizens in collaboration with TechSoup Europe and Haus des Stiftens gGmbH with SAP funding, and based on the scientific results of the H2020 ERA-PLANET project and Copernicus Academy study materials.
🚀The competition is organized by the Museum of Cosmonautics named after Sergiy Pavlovich Korolev (Zhytomyr city), which is the National Coordinator of World Space Week in Ukraine. The winner was determined by the publication of data on the planned events of World Space Week on the official site: https://www.worldspaceweek.org. The originality, smartness, relevance of the idea, as well as the expected mass of the event were evaluated. And another major factor in the selection was how well the event organizers could lead by example!
🙂World Space Week was created to inspire and our team coped with this mission perfectly when organizing and hosting a master class. We continue to work in this direction!