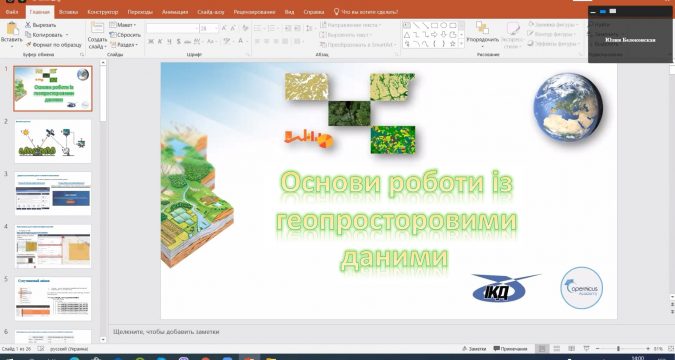 On June 23, 2020, a series of webinars for students interested in the analysis of satellite monitoring of the Earth was launched on the basis of the Space Research Institute.
Today's lesson was devoted to the basics of working with geospatial data. Participants got acquainted with the satellite data sources and how to download them, in particular, worked out the algorithm for working with Copernicus Open Access Hub. Also, the basic principles of working with images in QGIS software were considered: construction of a Kyiv classification map, calculation of field area, selection of satellite sensor channels, calculation of vegetation index and other applied tasks that allow qualitative and quantitative analysis of geospatial data.
Another meeting is scheduled for tomorrow, June 24, where webinar participants will get acquainted with the Google Earth Engine cloud platform. The second part of the series will cover: the basic set of GEE tools, available satellite data sets, data visualization, examples of the cloud platform use.
Lecturers of the webinar are employees of the Department of Space Information Technologies and Systems of the Space Research Institute Bohdan Yailymov and Leonid Shumilo.