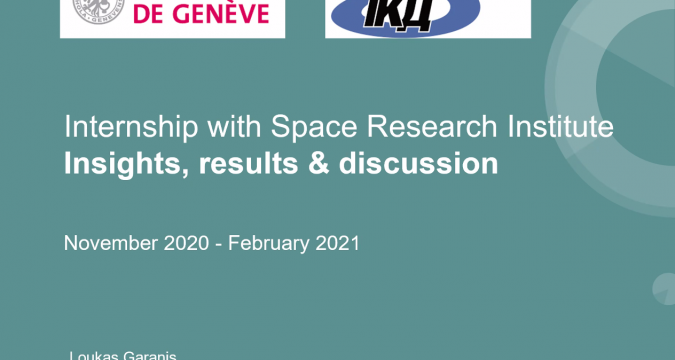 Cooperation with foreign educational institutions is another integral part of our department. In particular, since December 2020, a student Loukas Garanis from University of Geneva (Switzerland) was involved in working process of ERA-Planet GEOEssential project (Horizon2020). University of Geneva is officially the executor of the project together with Space Research Institute NASU-SSAU.
On February 24, 2021, Loukas made a report on the results of the collaboration between University of Geneva and the SRI NASU-SSAU. He told about the methodology development for Sustainable Development Goals indicators evaluating.
The profile theme of Loukas Garanis is SDG6 – Clean Water and Sanitation (Ensuring availability and sustainable management of water and sanitation for all). Loukas is a specialist in geomatics (geographic information systems) and innovation, human development and sustainable development.
During three months of research at SRI NASU-SSAU, Loukas gained practical experience in Google Earth Engine cloud platform, mastered the basic Python programming skills required by Data Scientists, as well as using the experience of the University of Geneva in SWAT hydrological model using (link to the publication Bär R. et al.
https://www.sciencedirect.com/…/abs/pii/S1462901114000720
), together with the Junior Researcher Leonid Shumilo, studied the relationship between climate change and land degradation.
The listeners of the report were students – the masters of 1st year of study at Kyiv Academic University, specialty 122 "Computer Science and Information Technology" (the educational program based on researches of SRI NASU-SSAU). Particular attention was paid to the cloud technologies using to solve problems of scientific and applied nature, which is considered in the course "Cloud Technologies" (read for masters in the spring semester).
During the workshop, the intern shared with students the aaspects of applied using remote sensing technology to real-world problems (environmental and humanitarian aid). Loukas also spoke about the peculiarities of his internship at a Ukrainian research institution, and shared the secrets of finding opportunities to grow the knowledge quality in their subject area.