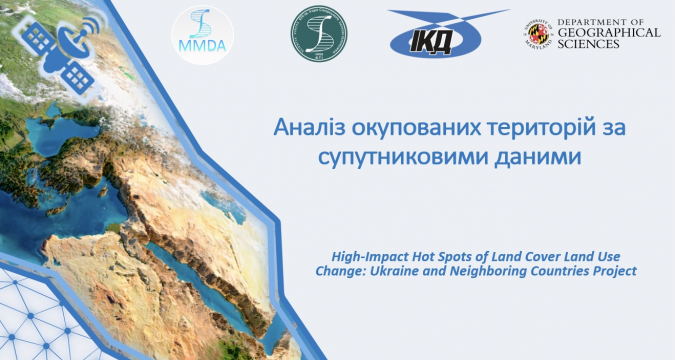 Employees of the Department of Mathematical Modeling and Data Analysis Institute of Physics and Technology NTUU «Igor Sikorsky Kyiv Polytechnic Institute», Space Research Institute NAS Ukraine and SSA Ukraine and the University of Maryland within the project «High-Impact Hot Spots of Land Cover Land Use Change: Ukraine and Neighboring Countries Project» conducted an analysis of the occupied territories based on satellite data.
The main goal of the project is analysis and quantitative assessment of land cover changes in Ukraine for the agricultural, forestry and urban sectors.
The analysis was performed using classification maps, which are obtained from our own deep learning algorithms based on time series of satellite data (one of these works can be found here, and the others — at the link).
During eight years (from 2013 to 2021) the forest area in the valley of the Seversky Donets River in Luhansk region, which belongs to the Emerald Network, decreased by 14.9 thousand hectares.
Agricultural areas in Donetsk and Luhansk oblasts have also changed. Crop areas decreased significantly – a total of 216.4 thousand hectares of agricultural land ceased to be cultivated, especially along the demarcation line.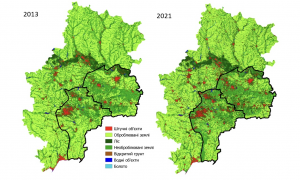 The average annual value of PM2.5 has decreased, which means a significant improvement in air quality, but this is due to the decline of industry in the study areas, as most factories have stopped working.
For example, in Donetsk in the period from 2014 to 2021, the PM2.5 indicator decreased from 20-22 μg / m3 to 12-14 μg / m3.
Copernicus Atmosphere monitoring Service data were used to monitor air quality.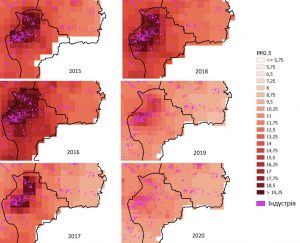 Studies show that the economic situation in the occupied territories has changed dramatically in recent years due to a number of different factors. Economic and political changes, climate variability and the military conflict in eastern Ukraine, as well as other elements of human activity, have played a role in this.