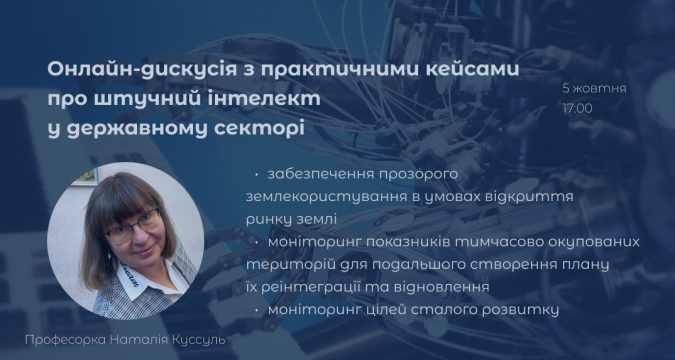 Today, October 5, 0 17:00, an online discussion will begin with practical cases on artificial intelligence in the public sector, where the first speaker was elected professor of our institute Nataliia Kussul.
The rapid spread of artificial intelligence has a significant impact on society, changing the way we work, live and interact. Today, artificial intelligence helps the world diagnose diseases and develop clinical protocols. In addition, it is used for monitoring, which Natalia will talk about, namely — the monitoring of indicators of the temporarily occupied territories to further create a plan for their reintegration and restoration, and the monitoring of sustainable development goals.
The topic of ensuring transparent land use in the conditions of opening the land market will also be covered.
All these strategic tasks in question can be solved with the help of satellite intelligence at the service of the state. Nataliia Kussul will talk about the prospects of its development and even more! We live in incredible times: now we can overcome some of the world's biggest problems with new technologies led by artificial intelligence.
It's time to force artificial intelligence to work for the planet. Take part by pre-registering at the link!
The organizers of the event are Artificial Intelligence in the Public Sector: Case Studies є The Expert Committee on the Development of Artificial Intelligence and ABA ROLI Ukraine.
Are waiting for you!