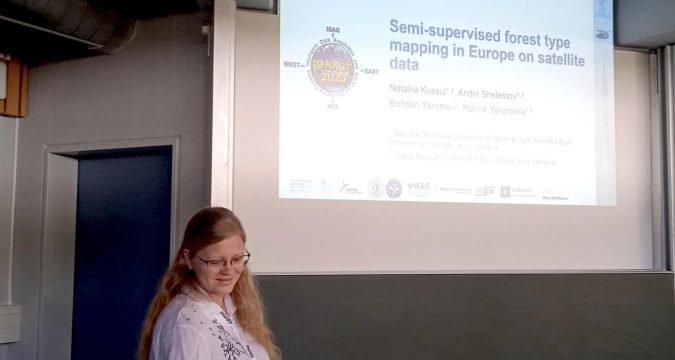 On September 7-9, 2023,
the international conference
IDAACS2023
was held, where the employees of the department were both section leaders and speakers of scientific results. Nataliia Kussul successfully held a poster section on machine learning, modeling, and data analysis, where students and teachers presented a wide range of their scientific achievements. Hanna Yailymova presented two papers. One of them is about a mathematical model for geospatial detection of air pollution sources using data from available stations and satellite information. The other paper is related to the development of a technology for building a modern map of forest types for the whole of Europe with high spatial resolution and, of course, using satellite data. Full titles of the works:
Semi-supervised forest type mapping in Europe on satellite data (Nataliia Kussul, Andrii Shelestov, Bohdan Yailymov, Hanna Yailymova)
Mathematical Model for Determining the Geometric Location of the Environmental Pollutant Based on Sensor Data (Vladyslav Khaidurov, Bohdan Yailymov, Andrii Shelestov)
Our work was carried out within the framework of the NRFU projects ("
Methods and models of deep learning for applied tasks of satellite monitoring
" and "
Geospatial models and information technologies for satellite monitoring of smart city problems
") and the international SWIFTT project ("
Satellites for wildlife inspection and forest threat tracking
"). This year's conference was held in a hybrid format and brought together about 140 scholars in Dortmund.