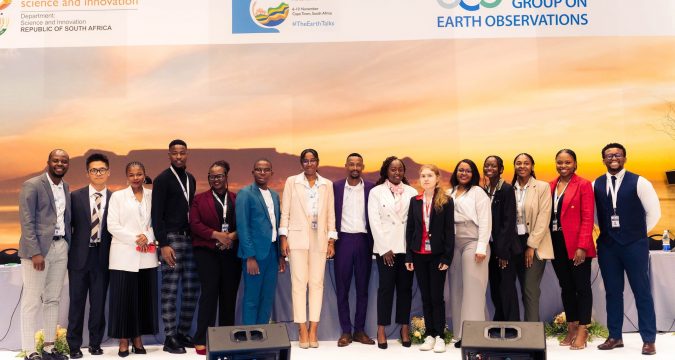 On November 6-10, the international conference
GEO Week 2023
was held in Cape Town (South Africa), in which the employee of our department Drozd Sofiia took part.
The conference was devoted to the discussion of the strategy for the development of the Earth observation group (GEO) after 2025. According to this strategy, the next decade at GEO will be devoted to the development of artificial intelligence based on geospatial data under the slogan "
Earth Intelligence for All
".
For the first time, at the GEO summit, the role of young people in the creation of Earth Intelligence was discussed, and the latest scientific results in the field of Earth observation were also presented.
Sofiia spoke as a speaker at the plenary session, where she presented the position of the young participants on the GEO strategy after 2025. Sofiia confirmed that the youth involved in the GEO union support this strategy.
Sofiia also participated in the joint development with young scientists of the world and presentation at the ministerial summit of the first ever declaration on the role of youth in GEO – FIRST GEO YOUTH DECLARATION.
In addition, Sofiia presented the achievements of our team in the application of machine learning to monitor land cover changes in Ukraine:
Utilizing Machine Learning for Land Cover / Land Use Change analysis in Ukraine, Nataliia Kussul, Andrii Shelestov, Hanna Yailymova, Bogdan Yailymov, Sofiia Drozd.
And our team presented two works at the EuroGEO stand. The first work was devoted to forest monitoring using satellite data:
The second work was related to the assessment of damage to agricultural fields from the war in Ukraine using Earth observation data:
Quantifying war damage in Ukraine based on EO data in support of EO4UA, Nataliia Kussul, Andrii Shelestov, Hanna Yailymova, Sofiia Drozd.
It is important that the strategic direction of GEO, aimed at the development of artificial intelligence Earth Intelligence, is central to our scientific research. We are proud of our young people who successfully represent our achievements and Ukraine at the international level.